Welcome to the John C Wright Wiki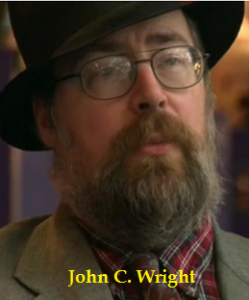 Dedicated to the works of John C. Wright.
"A major figure in the recent renaissance of space opera." Spider Robinson
"An elegant stylist and a true visionary, Wright will delight hard SF fans with his exuberance..." Library Journal
This is a wiki by and for fans and future fans of award-winning science fiction and fantasy author John C. Wright (JCW).
Begin your adventures into JCW's (Cinematic Dark Expanded Extended) multiverse (the JCWCDEEM) of unlimited possibility and wonder!
If you are a fan of JCW, or become one, this is your wiki! Help us improve and expand!
| | |
| --- | --- |
| January 29, 2018 | New layout for wiki home page. |
| | |
Enter the JCW (Cinematic Dark Expanded Extended) Multiverse ...
More series ...
Stand-Alone Novels, Short Fiction, Non-Fiction
Edit
Complete bibliography ...
The JCW (Cinematic Dark Expanded Extended) Wiki Community
Get involved in making this wiki the best JCW fan site in the multiverse!
Pages about JCW's works of fiction should be put in one of the following categories:
Free space Spoiler-free. Free space pages will contain no information that is not publicly available about a work to someone who has not yet read it. For example, the book's dust jacket blurb, Amazon.com description, or a very high-level review.
Gravity well No intentional spoilers, but may contain information that implies the resolution of some plot element. For example, a detailed (but explicit spoiler-free) review, or including a character in a list of characters for a later work in a series when that character appears to die in an earlier work.
Schwarzschild radius Contains explicit spoilers. Read only if you have already read the work in question, or you do not mind finding out what happens in the work before you read it.
If you find a page without one of these categories, or one that has been assigned to the wrong category, please add the appropriate spoiler category.